Prudential Productivity Awards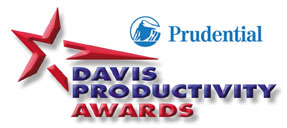 A joint effort of the Florida TaxWatch, the Florida Council of 100, and the State of Florida, the Prudential Productivity Awards are presented annually to honor state government employees throughout Florida who have significantly increased productivity in delivering state services and products. The program presents cash awards ranging from $100 to $7,000 as well as commemorative plaques, and certificates of commendation.
The Prudential Productivity Awards Agency Coordinator for the University of Florida is Kenya Williams, kenya-williams@ufl.edu or (352) 273-1761.  The Agency Head for the University of Florida is Jodi Gentry.
Should you have any questions regarding the nomination process or online application please contact Kenya Williams, Training and Organizational Development, at the email or phone number listed above.
Past winners