EFMLEA Single Day Adjustment Calculator
EFMLEA Single Day Adjustment Calculator
About this calculator
This calculator was designed to show employees leave deductions that will occur behind the scenes in the system when using the TRC's EFV and EFS to supplement 2/3's of their hourly rate of pay up to $200. Deductions will be made bi-weekly at the end of every pay period.
You may enter any iteration of time to deduct from your vacation or sick leave accruals up to 8 hours or your FTE.  Those who work intermittently in a day may enter regular time and the TRC's EFV or EFS, or a combination of both.
For example:
If you can work 4 hours a day but need to use EFMLEA hours for the additional 4 hours, you will log the 4 work hours as Regular Work Time and you can log the other 4 hours under EFV or EFS or you may split the time between them to your preference.  The calculator will display the hours that will be deducted based on that day's entry.
Find your hourly rate
To find your hourly compensation, view your payslip in my.ufl.edu by following the path below:
Main Menu => My Self Service => Payroll and Compensation => View Paycheck
Select a payslip and look in the 'HOURS AND EARNINGS' area under the 'RATE' column, as highlighted on the image below: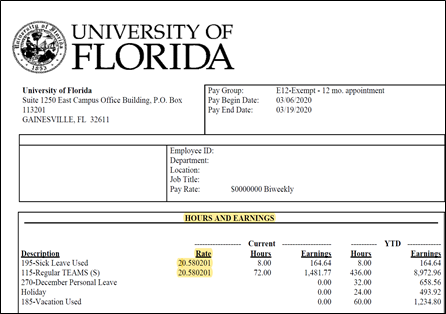 ---
Note: This calculator is for reference purposes only and is only an estimation.