EFMLEA Single Day EFM Calculator
EFMLEA Single Day EFM Calculator
About this calculator
This calculator was designed to show employees their daily pay using 2/3's their hourly rate up to $200, using the TRC EFM- Emergency Family Leave. You may log up to 8 hours or up to your FTE using this TRC.
Those who work intermittently in a day may enter regular time, and the TRC EFM, up to 8 hours or your FTE.
For example:
If you are a full time employee and are able to work 4 hours a day but need to use EFMLEA hours for the additional 4 hours, you will log the 4 work hours as Regular Work Time and you can log the other 4 hours as EFM to receive 2/3's your rate of pay for those 4 hours.
Find your hourly rate
To find your hourly compensation, view your payslip in my.ufl.edu by following the path below:
Main Menu => My Self Service => Payroll and Compensation => View Paycheck
Select a payslip and look in the 'HOURS AND EARNINGS' area under the 'RATE' column, as highlighted on the image below: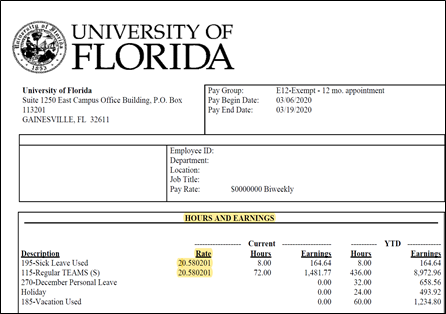 ---
Note: This calculator is for reference purposes only and is only an estimation.
Note: The daily maximum for 2/3 pay is $200.