Type of Policy: HR/Title IX
Effective Date: January 2019
Last Revised: January 2019
Purpose
This policy sets expectations for employee behavior that will protect students, campus visitors, and all University of Florida employees from any form of sexual misconduct, including, but not limited to sexual harassment, in order to establish and maintain a safe and comfortable environment for working, learning, and residing.
Scope
This policy applies to all students, employees, campus visitors, and applicants for either admission or employment who express concerns of being the recipient of any form of sexual misconduct, including sexual harassment, by University affiliated employees, students, visitors, or contracted workers.
Policy Statement
The University of Florida is committed to providing a safe educational, working, and residential environment that is free from sexual harassment or misconduct directed towards any and all members of the community. To achieve this goal, no behavior of this nature will be tolerated and, if discovered, the procedure for investigation and potential adjudication, as outlined in this policy, will be followed. Similarly, any retaliation against an individual who has filed a complaint regarding an alleged sexual harassment or misconduct is also against university policy and will face its own disciplinary procedure. The University encourages students, faculty, staff, contracted workers, and visitors to promptly report any suspected behavior that is in violation of this policy.
Procedures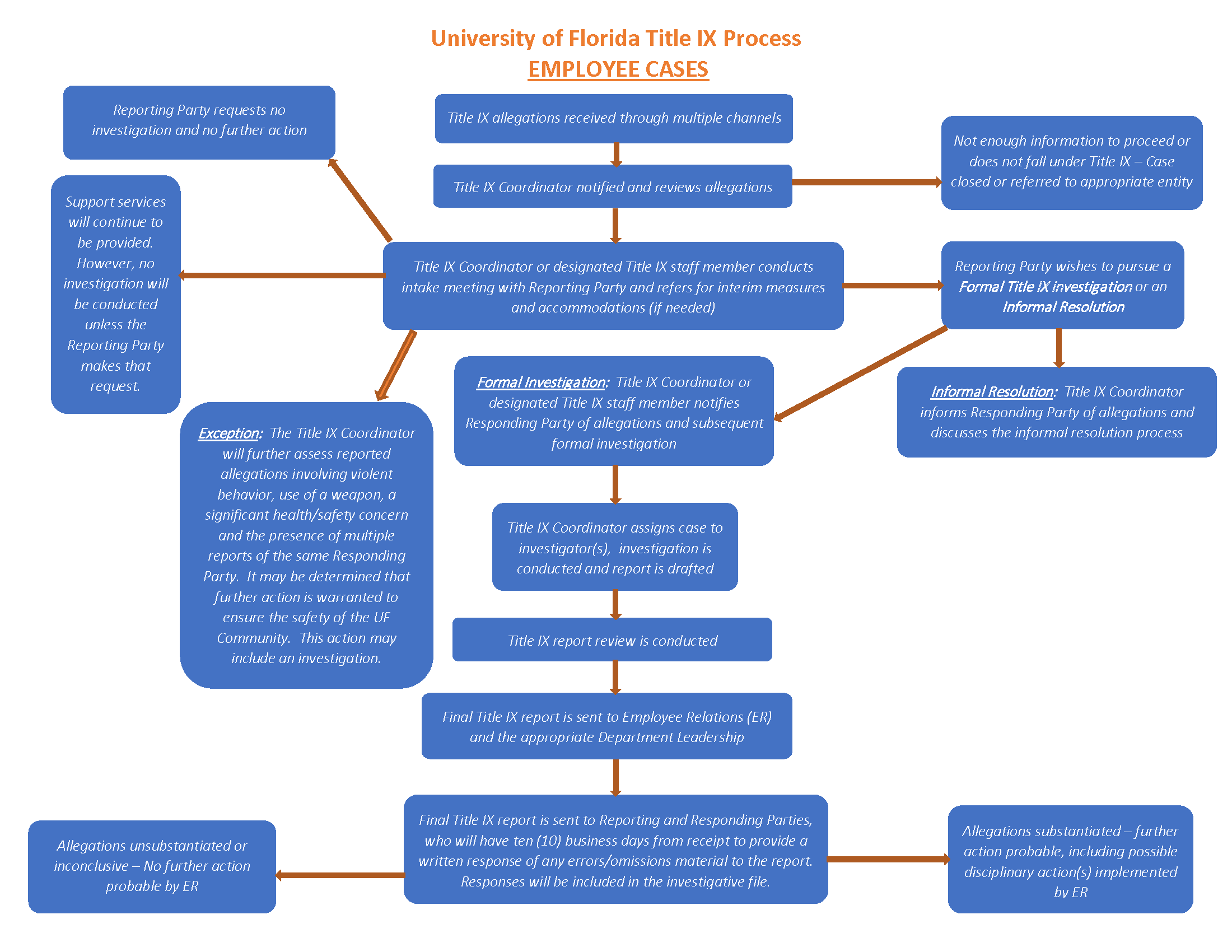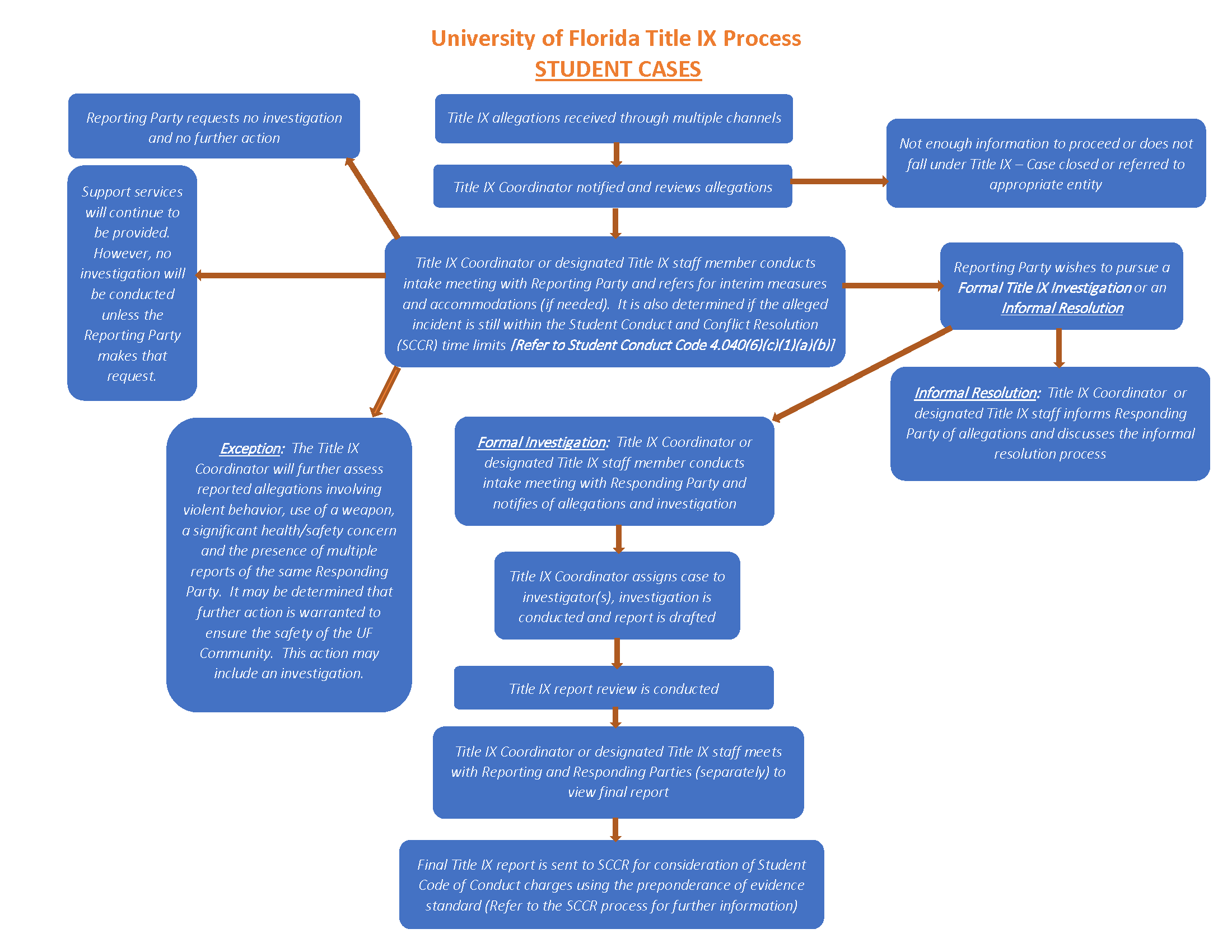 Reporting Questions or Violations
It is the University of Florida's policy to protect all community members from any form of sexual misconduct including harassment. Therefore, it is the responsibility of all members of the community to report incidents of policy violations. Any employee, student, or visitor who has knowledge of an occurrence of sexual misconduct or questions regarding the policy is strongly encouraged to promptly reach out to the following party who is responsible for overseeing the implementation of and assuring compliance with the University of Florida's Sexual Harassment and Misconduct Policy:
Title IX Coordinator
Dr. Russell Froman
427 Yon Hall
1908 Stadium Road
PO Box 112085
(352) 273-1094
rfroman@ufl.edu
https://titleix.ufl.edu
inform@titleix.ufl.edu
Enforcement
Failure to comply with this policy could result in disciplinary action, up to and including disaffiliation or termination as deemed appropriate by the adjudicating body. Sexual misconduct is prohibited by University policy and may also be prohibited by state and federal law and violations may also result in criminal and/or civil liability.
---
Resources
UFPD – Office of Victim Services
Dean of Students Office – Student Conduct and Conflict Resolution
Definitions
Sexual harassment is a form of sexual misconduct that can include unwelcome sexual advances or physical conduct of a sexual nature, requests for sexual favors made as an implicit or explicit condition of employment or education, or other verbal or physical conduct of a sexual nature that places the receiving person in reasonable fear of physical harm, or objectively disrupts or interferes with their employment, education, or other activities related to their role on the University of Florida Campus on the basis of their sex.
Sexual misconduct is the term used to describe a wide range of sex discriminatory behavior, including sexual harassment, and any other unwanted conduct of a sexual nature that is committed without consent or with the use of force, coercion, threats, intimidation, or manipulation.
Related Information
Policy History
| | | |
| --- | --- | --- |
| Revision Date | Author | Description |
| | | |