Helping Employees In Distress
Helping Employees In Distress
UF Human Resources has developed this informational guide to aid supervisors in assisting employees experiencing difficulties.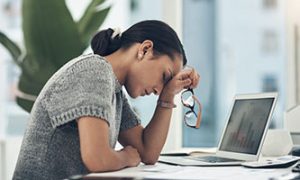 When working with an employee exhibiting disruptive or troubled behaviors:
Call 911 immediately in an emergency or if safety is an immediate concern.
For non-emergency concerns,
In situations where the employee is receptive to help, provide information about the Employee Assistance Program (833-306-0103).
---
Dangerous Employee
CALL 911 IMMEDIATELY if safety is an immediate concern.
Behavior such as verbal or physical threats to harm others or self, or active threats of suicide, are reasons to call.
If the person you are talking to has expressed the intent to do self-harm, do not leave them alone.  Call 911 immediately.
After calling 911, notify theUFHR Employee Relations Office for your area to determine next steps.
EMPLOYEE DANGEROUS TO OTHERS – WARNING SIGNS:
Verbal or written threats to harm others, including threating or harassing phone calls, text messages, emails, written notes, etc.
Physically intimidating, threatening, and/or aggressive actions, including stalking behaviors
Possessing or displaying a weapon in the workplace, or threatening to get a weapon from another place (such as car, home, etc.)
Loss of contact with reality, such as seeing or hearing things that others cannot see or hear
Paranoia and fear that others may be conspiring against them
EMPLOYEE DANGEROUS TO SELF – WARNING SIGNS:
Openly communicating suicidal thoughts and/or threats to harm self (may be communicated verbally or in writing through e-mail, on social media or academic sites)
Making statements as if they are saying goodbye or joking about suicide.  (For example, "My family would be better off without me," or "I wish I could kill myself.")
Giving away prized possessions
Withdrawing from friends, family, and society
Physical signs of self-harm or injury
Additional Resources:
Dial 988 to reach the National Suicide and Crisis Lifeline.  If you or someone you know is experiencing a mental health crisis, support is always available 24 hours a day, 7 days a week.
*After calling 911, communicate with your supervisor and HR Liaison, then consult with the UFHR Employee Relations Office for your area and develop a plan.
---
Disruptive Employee
A disruptive employee demonstrates inappropriate behavior that negatively impacts employees and the work environment, but safety is not an immediate concern.
DISRUPTIVE EMPLOYEE – WARNING SIGNS:
Disruptive behavior such as hostile toward others, aggressive, interferes with teamwork, disregards expected workplace behavior and common courtesy
Insubordinate in responses; fails to comply with corrective feedback or is otherwise uncooperative
Irrational beliefs or fears that others may be conspiring against them
Response to a Disruptive Employee:
Attempt to deescalate the situation.  Offer to find someone to assist in problem-solving, and meet with appropriate parties to work on a solution
Potential phrases to use to deescalate the situation:

I understand you are frustrated, and I am here to listen, but we need to remain calm and respectful.
My understanding of what you are saying is…
That sounds extremely frustrating.  What are some options to move forward?
What do you need right now?
Let's take a break until …

Work with your supervisor, HR Liaison and UFHR Employee Relations to develop a plan of action
Implement the plan and follow up with recommended resources such as the Employee Assistance Program (EAP).
Document your actions and conversations
---
Troubled Employee
Safety IS NOT an immediate concern.
Employee Assistance Program Recommendation:
Mental Health/Financial/Legal/Work-life Consultation: 833-306-0103
Warning Signs:
Employees in distress may not be disruptive to others but might exhibit behaviors that indicate something is problematic. They may also be reluctant or unable to acknowledge a need for personal help. Behaviors may include:
Bizarre or irrational behavior, emotionally unstable
Difficulty in Communicating; communicates in an erratic or delusional manner; rapid or rambling speech/thoughts
Personal challenges or life events impacting the workplace, or domestic violence.
Changes in emotional states; e.g. sadness, crying, lethargy, irritability, preoccupied, increased and more intense disagreement with peers, sense of confusion
Changes in physical well-being; e.g. swollen eyes from crying, increased illnesses, poor self-hygiene, rapid weight loss/ gain
Severe decline in Productivity or Work Quality
Tardiness and excessive absences inconsistent with prior history
Repeated requests for special consideration; ex. Deadline extensions, changes in job requirements
Response to a Troubled Employee:
Consult the UFHR Employee Relations Office for your area
Hold a conversation with the employee somewhere that is comfortable and provides privacy. Tell the employee you are worried about them and why
Address the situation directly and how it relates to the position; have someone else in the meeting with the two of you
Depending on the situation, ask the important question- "Based on what you are saying about how things are for you, I am wondering… Are you thinking about hurting yourself?"
Do not make promises of confidentiality
Refer to campus and community mental health resources: Employee Assistance Program (833-306-0103) or Alachua County Crisis Center (352-264-6789)