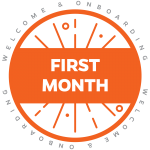 There are many areas to consider during your new hire's first month. Follow the steps here to cover the most important elements of onboarding.
TRAINING
1.  Assign required training such as HIPAA and Maintaining a Safe and Respectful Campus
2.  Prioritize training for system(s) access
3.  Intersperse training with job-related tasks
EXPECTATIONS AND FEEDBACK
1.  Establish weekly check-in meetings to discuss performance expectations and provide feedback (these meeting should be ongoing and continuous)
2.  Set short-term goals with specific deadlines and discuss completion at weekly check-ins
3.  Reduce uncertainty whenever possible
BUILD RELATIONSHIPS
1.  Meet with your new hire daily during the first week and be available to provide direction
2.  Connect the new hire with team members and the customers he or she serves
3.  Set up time for the new hire to meet senior leaders
BENEFITS AND REWARDS AT THE UNIVERSITY OF FLORIDA
1.  Inquire about the new hire's progress signing up for health, retirement and other benefits
2.  Connect new hire to GatorPerks
Resources
Stay on track with the first-30-day checklist. Having a corrective conversation is the hardest part of setting expectations and providing feedback. Peruse the "OH NO" resource to get ideas for how to have these conversations when needed.
Coming soon: Building Relationships for Success