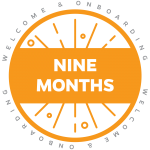 Continue your investment in your new hire. Ongoing feedback and relationship-building will ensure your investment pays off.
EXPECTATIONS AND FEEDBACK
1.  Now that your new hire has successfully completed probation and is a "full" member of the team, discuss his or her future goals with the team
2.  Continue weekly meetings and start to shift the conversation to workload, ambitions and interests
What is something that you really enjoy about your job?
What are some areas where you would like to grow and learn?
How can I help you meet your ambitions?
BUILD RELATIONSHIPS
1.  Discuss his or her integration with the team
2.  Connect his or her work to the UF mission and your team's values and purpose
3.  Discuss soft skills such as communication and customer service
Resources
Your new hire made it through probation. How can you ensure he or she remains invested and engaged?