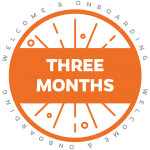 Your new hire is halfway to the end of the probationary period; be sure the employee knows how he or she is performing in the new job.
EXPECTATIONS AND FEEDBACK
1.  Continue weekly meetings to discuss performance expectations and provide feedback
2.  Facilitate goal setting and assign training as needed
3.  Engage in a focused performance management conversation with the new employee
What's going well in your job?
How were the trainings?
What challenges are you facing?
4.  Evaluate how the employee is doing
Consider how well the employee is doing
Consider areas where the employee is struggling
What kind of action plan can you provide?
Check in with Employee Relations and let them know how the employee is progressing
BUILD RELATIONSHIPS
1.  Arrange for new hire to meet division personnel
2.  Inquire if he or she is making work friends
BENEFITS AND REWARDS AT THE UNIVERSITY OF FLORIDA
1.  Inquire if the new hire has made his or her mandatory retirement election
Resources
Use the guiding questions below in your conversations with your new hire.