Considerations When Hiring an International Employee
Considerations When Hiring an International Employee
Visa Types Explained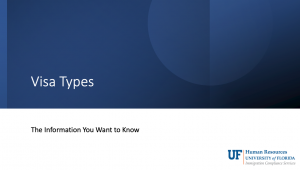 Current Visa Status
A candidate's current visa status can impact the length of time to obtain the appropriate employment authorization to hire the employee. Dependent on the candidate's current status, it could be immediate or could take 12 months (on extreme cases).
For example, if an international employee is on F-1 OPT status, then this employee can start right away as long as this employee's employment authorization document is up to date.
International employees in J-1 status can be subject to the 2-year home residency requirement. In some cases, this 2-year home residency requirement can be waived. The requirement must be waived before the H-1B petition can be filed. It is currently taking 6 to 8 months to process.
If an international employee is already on H-1B status with another employer, then we can port this employee over to UF quite quickly. If an international employee is abroad, the time to obtain an employment authorization will take several months.
Desired Hire Date
Ideally, the lead time should be at least 9 months before the hire date for our office and Fragomen to prepare and file the non-immigrant petition. We understand that this much time is not always possible, and our office can process cases with shorter time frames, however, these cases may incur additional expediting fees and may have greater risks associated with them because of the shorter time frame.
Petition Timeline
From the cases initiation to adjudication, non-immigrant visas can take between 12 to 18 months if filed under standard processing. For Change of Status and Change of Employer cases, our office requires that a premium processing fee be paid to USCIS, this can shorten the process to 6 to 8 months. Again, we understand that if the timing of the hire date is not within the 9 month period,  the petition timeline can be shortened based on agreements to move forward with the cases without the official prevailing wage determination
Prevailing Wage
This is only applicable when filing H-1B and E-3 status. Since H-1B is the most prevalent visa status filed at the University, this is something to consider when hiring an international employee.
The Department of Labor (DOL) regulations require UF to pay an international employee the Prevailing Wage or Actual Wage, whichever one is the higher salary.  
Travel Requirements
International employees should not travel while their non-immigrant visa petitions are pending with USCIS without first contacting our office. Traveling abroad during certain stages of the non-immigrant visa process can affect the outcome of the petition.
International employees who change their status to a non-immigrant employment visa inside of the U.S. are not generally required to leave the U.S. to obtain a new visa stamp in their passport. However, a new visa stamp in their passport would be required after any foreign travel.