The Gainesville Community
The Gainesville Community
It's not every day that you see a university and city so mutually supportive. With its beautiful natural landscape, nearby freshwater springs and wide-open prairies, Gainesville has been called an "urban forest." A place "where nature and culture meet."
But there's more to the climate in Gainesville than the near-perfect weather and scenic environment. There is the climate of innovation and entrepreneurship that has resulted in the creation of a substantial number of new businesses in recent years, making the city especially attractive for dual-career families. The University of Florida has many employees whose spouses have found jobs elsewhere in Gainesville. Likewise, you'll find many working couples on campus.
If you already live in Gainesville, you know just how special this city is. Gainesville has been described as one of America's best college towns and a hotspot for talented workers. Money magazine, Frommer's and Forbes are just a few of the magazines that have named Gainesville one of the top cities in the nation for livability.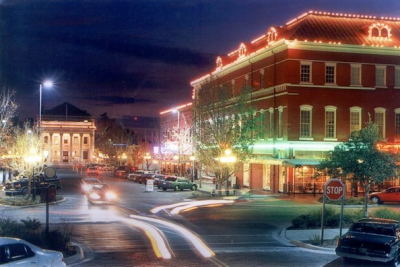 For those of you not familiar with "Hogtown" (as it was once known), here are a few more reasons to consider making Gainesville your home.
Alachua County is home to five schools on The Washington Post's 2017 High School Challenge Index, which lists the best high schools in the nation.
Gainesville boasts a revitalized downtown whose culturally enriched environment rivals those found in much larger cities.
Sports and recreation opportunities abound all year round.
The average high temperature in February is 69° F.
Orlando, Jacksonville, St. Augustine and both Florida coasts are all less than a 2-hour drive away.
For more information about Gainesville and the surrounding region, visit the Guide to Greater Gainesville.