Institute of Food and Agricultural Sciences
Institute of Food and Agricultural Sciences
The University of Florida's Institute of Food and Agricultural Sciences is a federal-state-county partnership dedicated to developing knowledge in agriculture, human and natural resources, and the life sciences, and enhancing and sustaining the quality of human life by making that information accessible.  UF/IFAS works closely with stakeholder organizations and individuals in Florida's communities to remain connected to priorities and imminent challenges for Florida's citizenry.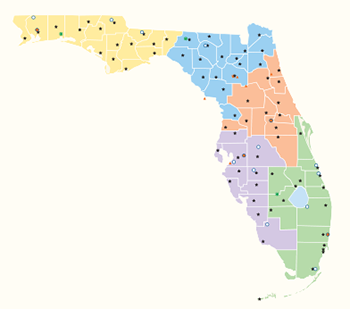 Because of its land-grant mission and the diversity of Florida's climate and agricultural commodities, UF/IFAS owns facilities located throughout Florida where students learn, and faculty teach, conduct research, and educate the community through Extension programs.  Those facilities include twelve Research and Education Centers, two biological stations, and numerous research and demonstration sites and farms.  UF/IFAS manages 3.9M gross square feet of built space in 1294 buildings statewide, including 341 buildings on the main UF campus in Gainesville.  While extending its presence into all 67 counties in Florida with county-owned Extension offices staffed with UF/IFAS personnel, who are jointly funded by UF/IFAS and county governments, UF/IFAS has also developed an international reputation for its accomplishments in teaching, research and Extension.  UF, together with Florida A&M University (FAMU) administers the Florida Cooperative Extension Service.
UF/IFAS College of Agricultural Life & Sciences
UF/IFAS CALS offers undergraduate and graduate degree programs in more than 20 disciplines. UF/IFAS CALS is known for its accomplished faculty and diverse student body.  As of fall semester 2018, UF/IFAS CALS has 4,250 undergraduates, 1,693 graduate students and 371 teaching faculty members representing 14 departments and two schools.
In fall 2019, 66% of UF/IFAS CALS undergraduates and 60% of UF/IFAS CALS graduate students are women. Minority students represent 28% of UF/IFAS CALS undergraduates and 16% of graduate students; international students represent 3% of UF/IFAS CALS undergraduates and 33% of graduate students.
The college values teaching excellence. UF/IFAS CALS has had more faculty members recognized by the U.S. Department of Agriculture with teaching awards than any other university in the nation. Administrators have established college-wide hubs for teaching enhancement and innovation: the CALS Teaching Resource Center and the Center for Online Learning and Technology (COLT).
UF/IFAS CALS offers 23 undergraduate degree programs and 22 graduate majors. Eight master's programs and two bachelor's programs are delivered fully online. Many UF/IFAS CALS bachelor's graduates go on to enter professional programs in fields such as medicine, pharmacy, dentistry, veterinary medicine, and law. Some earn advanced degrees in agricultural and natural resources disciplines and secure positions in academia, government or the private sector. Others enter the workforce immediately after earning an undergraduate degree, pursuing careers as research scientists, crop managers, economists, industry executives, Extension agents, teachers, entrepreneurs and more.
UF/IFAS Research
The mission of UF/IFAS Research is to discover new knowledge, encourage innovative study and create applications based on sound science that address challenges facing agriculture, natural resources and interrelated human systems in Florida, the nation and world. UF/IFAS Research, conducted under the auspices of the Florida Agricultural Experiment Station, facilitates all research activities conducted by UF/IFAS faculty and students.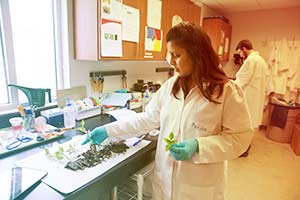 With over 550 faculty members with research appointments representing every academic department and discipline within UF/IFAS, the Research enterprise addresses significant issues confronting Florida industries, communities and individuals. UF/IFAS researchers are internationally renowned for their expertise and scientific achievements, and routinely garner honors and awards. Research projects are conducted at the UF main campus in Gainesville and at off-campus locations throughout the state, including 12 research and education centers, multiple animal sciences research and teaching units, and a demonstration forest.
In Fiscal Year 2017-18, UF/FAS Research garnered $166.2 million in sponsored projects. In 2018, UF/IFAS faculty published a record 1,611 refereed journal articles.  The breadth of IFAS research includes agricultural, natural resources and human systems. Agricultural topics investigated include pest and disease management, nutrient management, improved crop varieties, biotechnology, livestock reproduction and health, irrigation and food safety. Natural resources topics under study include climate variability, water quality and conservation, energy conservation, land-use issues, wildlife, invasive species, fisheries, forest science, ecotourism, ecology and ecosystem services. In human systems, studies by UF/IFAS researchers investigate global competitiveness, labor-saving technologies, marketing, consumer behavior, financial management, child and family development, human nutrition and health, agricultural education, sustainable development, community resiliencies and economic developments.
UF/IFAS Extension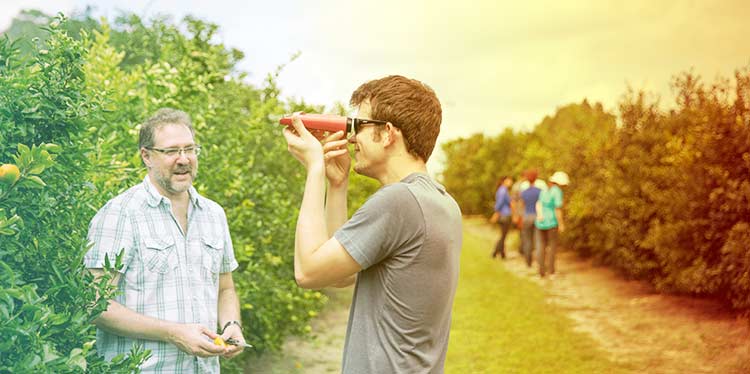 As a land-grant institution, UF has a statewide presence to serve citizens in every part of Florida. UF/IFAS Extension provides science-based information to residents and producers, and relaying concerns and questions to UF/IFAS researchers. Funded by federal, state, and country resources, UF/IFAS Extension facilitates extension activities conducted by UF/IFAS faculty on the UF main campus, at 17 off-campus locations and at 67 county-based locations, which includes faculty at the state, regional and county levels.
UF/IFAS Extension agents form the backbone of the program; nearly 500 are employed statewide as of fall 2018. Most agents have positions that are dedicated to one or more broad topics, such as horticultural crops, commercial agriculture, 4-H youth development, family and consumer sciences, Florida Sea Grant or natural resources. In addition, UF/IFAS Extension employs 278 statewide faculty specialists, who provide insightful guidance to producers dealing with high-value crops and other concerns. These specialists have education and applied research programs in citrus production, livestock, seafood, aquaculture, urban horticulture, family resources, nutrition, health, youth development and more. The close relationship established by UF/IFAS Extension personnel with local leaders allows a focus on local concerns via grassroots engagement. Many agents travel to producers' operations to provide on-site advice and relay producers' needs and concerns back to UF/IFAS statewide specialists for assessment and action.  In addition, Extension proactively serves the state of Florida through emergency response in counties and at the state level.