A place of becoming — beyond expectations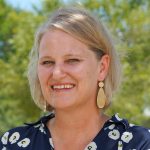 The start of a new academic year is always a time of such optimism and hope, regardless of which corner of the university we call home. The fall semester brings with it new possibilities and the opportunity to meet our daily activities with a beginner's mind.
While UFHR is without question a year-round operation, our activities ebb and flow alongside yours. And the start of the new academic year affords us an opportunity to reflect on how our services can optimize your experience as a member of the UF community — so that you have the space to not only achieve your goals, but to truly flourish.
We're dedicated to helping faculty and staff live beyond what they think is possible. We know that sounds lofty — and it is. But you're worth it.
Let's see where we can go. Together.
Melissa Curry
Interim Vice President, UF Human Resources