UF Rising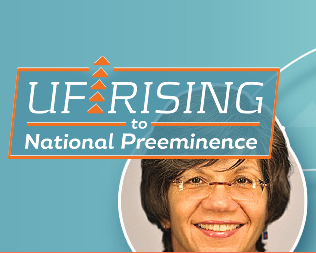 In November, President Machen announced the Florida Board of Governors approved the University of Florida's Preeminence Plan, which calls for hiring as many as 100 new professors, most of whom will be seasoned faculty who are widely recognized in their fields.
The state has awarded UF $15 million annually for the next five years to hire these faculty, which UF will match with private fundraising to hire even more talent—and to support the newcomers with labs, graduate assistants and other tools. Going forward, new faculty will be hired in the areas of research and scholarship where they will have the greatest impact.
Additionally, the UF Foundation has begun a fundraising campaign to establish 107 more endowed professorships and chairs, to build or repair facilities, to support innovations in teaching and to fund scholarships.
For more information and updates, please visit the UF Rising website.