Unemployment Compensation
Unemployment Compensation
On this page
Unemployment compensation (UC) provides partial, temporary income to workers who lose their jobs through no fault of their own, and are able and available for work. The objective is to provide a cushion to absorb some of the shock of unemployment to jobless workers, their families, and the state's business community.
Eligibility
Employees who lose their jobs through no fault of their own or have their work hours reduced against their wishes may be eligible for UC benefits. Wages, however, earned by a student enrolled at UF are statutorily exempt from benefit consideration.
Payment of Benefits
Who pays for UC benefits at the University of Florida?
The University of Florida is classified as a Reimbursable Employer, which means that the state Department of Revenue (DOR) pays the university's unemployment compensation charges as they occur. DOR then bills the university quarterly for those charges and the university reimburses the agency.
The department or budget entity that last employed an eligible individual is responsible for all liabilities incurred by the university.
The Human Resource Services' Unemployment Compensation program is responsible for identifying the charges for each department or budget entity and ensuring that those charges are collected from the appropriate source and reimbursed to the Department of Revenue. Questions about this process should be directed to the Unemployment Compensation office at: hhjhanna3@ufl.edu or 352-392-6615.
When does an individual start receiving UC Benefits?
Florida law requires every individual to serve one waiting week during which no UC benefits are paid. This waiting week is the first week that an individual files a claim and meets all eligibility requirements. An eligible claimant generally receives his or her first check three to four weeks after filing the initial claim and meeting all eligibility requirements.
How much money will an individual receive each week while on unemployment compensation?
If an individual is found to be eligible, the amount of her unemployment check will be between $32 and $275 per week, based on her previous earnings. An individual's work history determines the duration of her benefit eligibility.
For how long can an individual collect UC Benefits?
It varies from 12 to 23 weeks based upon the average unemployment rate in Florida for the third calendar quarter of the previous year. The amount of an individual's actual available benefits is 25% of the total wages he or she was paid during the employee's Base Period. This Base Period is determined by the quarter in which the employee files a claim for benefits (designated as Claim Filed). Please see the chart below.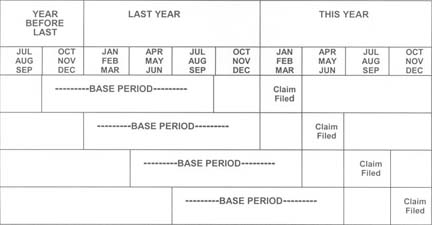 As an illustration:
If an employee
filed a claim in:
The base period will be
the previous months of:
Jan., Feb., or Mar. 2006
Oct. 1, 2004 – Sept. 30, 2005
Apr., May, or June 2006
Jan. 1, 2005 – Dec. 31, 2005
July, Aug., or Sept. 2006
Apr. 1, 2005 – Mar. 30, 2006
Oct., Nov., or Dec. 2006
July 1, 2005 – June 30, 2006
The current total amount of available benefits can range from a minimum of $850 to a maximum of $7,150. For example, if an individual's total Base Period earnings are $12,000, her total amount of available benefits will be $3,000 ($12,000 multiplied by 25% equals $3,000).
The Benefit Year is the one-year period a claim may be in effect and begins the day the claim is filed. If an individual receives all of his benefits before the Benefit Year ends, he cannot receive any additional benefits. To be eligible, an individual must have:
been paid wages in two or more calendar quarters in the base period,
total base period wages during that time of at least 1 1/2 times the wages in the quarter with the highest earnings, and
have earned at least $3,400 during the base period.
To calculate an individual's Weekly Benefit Amount, find the quarter with the highest earnings and divide by 26. The minimum Weekly Benefit Amount is $32, and the maximum Weekly Benefit Amount is $275.
For example: If the calendar quarter in an employee's base period with the highest earnings shows $3,000, her weekly benefit amount will be $115 ($3,000 divided by 26 equals $115).
Can a current/former university employee be denied Unemployment Compensation Benefits?
Yes. A current/former university employee may be denied benefits if he:
Quit his job with the university, and the university was the last employer
Was suspended/discharged for misconduct as defined by the UC Law
Is on a leave of absence that he requested
Received wages in lieu of notice of termination
Is not able to, available for, and actively seeking work
Knowingly makes a false statement to obtain benefits
Received wages while enrolled as a student
If an employee is terminated by the university, must the university immediately pay all wages and benefits owed the employee at the time she is terminated?
No. The university has until the next regularly scheduled payday to pay the employee.
People say, "Florida is a 'right to work' state. What does that mean?"
Article 1, Section 6, of the Florida Constitution recognizes collective bargaining, prohibits public employees from striking, and states simply that people may work whether or not they join a labor organization. This clause does not guarantee a job to anyone who wants one, nor does it require an employer to employ any particular individual.
What federal and Florida laws govern labor issues?
The primary federal law is called the "Fair Labor Standards Act of 1938 as Amended" (FLSA). Florida laws governing labor matters are found in multiple locations throughout the statutes. In general, federal law is stricter than Florida law, except in areas regulating employment of minors.
---
Fraudulent Activity Information
In February of 2021, the Florida Department of Economic Opportunity (DEO) expanded their partnership with ID.me, to help keep Floridians' identities secure from fraudulent activity and bolster current fraud prevention measures.  Any new claimant filing for Reemployment Assistance will need to verify their identity through ID.me.  In addition, the DEO needs your help preventing Reemployment Assistance fraud and abuse and to ensure that Reemployment Assistance benefits only go to eligible claimants.
To report any cases of fraud, please contact DEO:
The Fraud Hotline at 1-800-342-9909.  The DEO information at 1-833-352-7759, extension 4, Monday-Friday between 7:30a-6:30p EST.  Via the Online Fraud Form.
If you receive a check from DEO for an unemployment claim, you did not submit, please write VOID, across the front, make a copy for your records and then return this payment/check to the address below:
The Department of Economic Opportunity
Benefit Payment Control
P.O. Drawer 5050
Tallahassee, FL 32314-5050
Department of Economic Opportunity (DEO) contact information is 1-833-352-7759, Monday through Friday from 7:30a-6:30p EST.
How can I protect myself from becoming a victim of Identity Theft?
There are multiple ways you can protect yourself from becoming a victim of Identity Theft.
View Florida's Identity Theft Victim Kit.
You can also find resources at https://www.irs.gov/identity-theft-central
Please alert UFHR Unemployment Compensation at (352) 392-6615, as soon as you suspect any fraudulent activity.
Additional Resources
UF EAP website https://www.eap.ufl.edu/