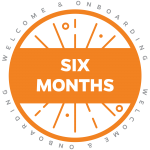 Help to establish excellent relationships between you, your new hire and the people he or she works with across UF. Have a performance conversation BEFORE the six-month probationary period ends.
EXPECTATIONS AND FEEDBACK
1.  Continue weekly meetings to discuss performance expectations and provide feedback
2.  Engage in a focused performance management conversation and focus on their achievements
What's going well in your job?
How were the trainings?
What challenges are you facing?
How can I help you succeed?
BUILD RELATIONSHIPS
1. Connect new hire to ways to gain a broader perspective of UF
CRITICAL ACTIONS
1. Evaluate the new employee prior to the end of his or her six-month probationary period
Resources
The "What's Next" resource includes a plethora of topics and questions to assist with your regular and ongoing performance conversations.