Immigration Compliance Services
Immigration Compliance Services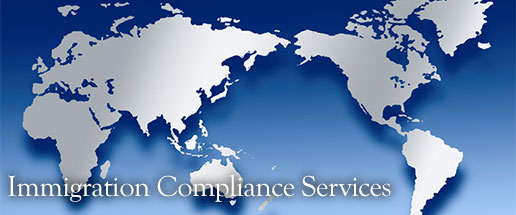 University-Sponsored Employment for Foreign National Hiring
The University of Florida has retained the law firm of Fragomen, Del Rey, Bernsen & Loewy, LLP ("Fragomen") to handle the University's immigrant and non immigrant visa petitions.  Fragomen is the largest firm in the United States exclusively dedicated to immigration law, with 30 offices worldwide, including over 150 U.S. immigration attorneys and over 700 support staff.
In conjunction with Immigration and Compliance Services (ICS), the Fragomen team will advise, prepare and file non-immigrant and immigrant employment based cases on behalf of the University of Florida.  To initiate the process on behalf of the employees, departmental administrators must submit an online questionnaire on the UF immigration Home page (IHP) at http://ufl.fdbl.com .  If you do not have a login and password, please contact ICS at 352-392-2477.
University of Florida policy does not permit private attorneys to submit immigration related petitions or applications on its behalf. University of Florida employees are not authorized to sign the Notice of Appearance as Attorney or Representative (Form G-28), which grants authority to an attorney to act on all aspects of immigration on behalf of the University; accordingly, University of Florida employees are prohibited from attempting to grant such permission. All applications and petitions associated with University of Florida sponsored nonimmigrant statuses must be submitted by ICS/HRS.
Nonimmigrant Workers (H-1B, TN, O-1, E-3) 
Foreign national employees with an educational background which meets the qualifications for a "specialty occupation" with the intent to either return to a place of residence abroad or remain in the U.S. permanently.
Employment Based Permanent Resident Status
Foreign national employees whose employment conditions meet federal and University requirements for sponsorship under an immigrant classification, which allows the employee to adjust status to one which permits one to reside and work in the U.S. for an indefinite period of time. All applications and petitions associated with University of Florida employment sponsored immigrant statuses for permanent residency must be submitted by ICS/HRS. The sponsoring department should contact ICS directly for these types of requests.
Other Employment-Based Petitions and Applications
Non-immigrant employees may personally file self-sponsored petitions for immigrant classifications: EB-1 for persons of extraordinary ability and EB-2 (National Interest Waiver) for aliens of exceptional ability in the sciences, arts, or business whose presence and activities in the U.S. are in the national interest. Private legal counsel and services may be retained by, and at the sole cost of, non-immigrant employees for petitions for such classifications. For these employee-sponsored cases, employing University units may provide a copy of the current offer of employment letters and/or a confirmation of current employment letters. However, due to University policy regarding employment appointments, departments/centers are not permitted to issue letters to foreign nationals that indicate that he or she will be offered employment on a permanent basis without written permission issued by ICS. A sample of the authorized letter is found under the forms section.
View Filing Notices for Labor Condition Applications to be submitted to the US Department of Labor / Employment and Training Administration
View Job Availability Notices posted in compliance with federal regulations which govern the filing of an Application for Permanent Alien Labor Certification (ETA Form 9089)
Fee Information
Filing Fee Checks
THREE SEPARATE CHECKS – There is NO invoice for filing fee checks
Creating a Non-Purchase Order Invoice
NOTE: In the General section of the Buyer Invoice tab, the users need to fill out the 2 fields "Payment Handing Code" AND "Payment Handing Justification" to indicate the department will pick up the physical checks from Disbursements Office".
Academic Credential Evaluation is obtained from an organization which evaluates that the foreign education of a degree abroad is equivalent to the education of a U.S. degree.
Specific information related to the employment of beneficiaries of employment-based immigration statuses must appear in their respective offer of employment letters.
Terminations
The UF sponsoring department is responsible to "offer" a one way airfare ticket back to the last country of origin should a foreign national employee on an H1B or an O-1 sponsorship be terminated, prior to the current expiration date. If the foreign national resigned the position, the sponsoring department is not liable for the return airfare. Make sure to document that the foreign national resigned on his/her own terms and submit the end of program notice found in the forms section to ICS.