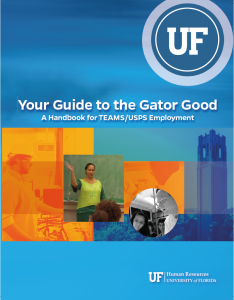 PLEASE NOTE: After a soft launch, some minor revisions to the new handbook are currently being made. We expect to have the updates completed by the end of January, and then the official roll out of the handbook will begin! If you have questions, comments, or suggestions in the meantime, please feel free to email humanresources@ad.ufl.edu with "Employee Handbook" in the subject line. We'll get back to you!
Designed to be a commonsense guide for new and existing employees at the University of Florida classified as Technical, Executive, Administrative and Managerial Support (TEAMS) or University Support Personnel System (USPS), this guide provides a helpful introduction to working at the University of Florida.
Looking for the UF Faculty Handbook? Please visit the Office of the Provost's website.