Leadership Team
Jodi Gentry, Vice President for Human Resources
As vice president for Human Resources, Jodi Gentry oversees all human resources operations for faculty and staff at the University of Florida.  This involves talent acquisition, benefits, professional development, classification and compensation, labor and employee relations, administrative communication services, and work life.
Through UFHR's strategic commitment, she and her team are working to support preeminence through people by helping to:
Identify, hire, and retain the best talent
Develop leaders to manage and lead effectively—in a way that is fair and nondiscriminatory
Reward faculty and staff both competitively and strategically
Identify and manage risk responsibly
Innovate and use technology to achieve operational HR excellence
Foster an inclusive environment where employees feel welcomed, prepared, and engaged
The Vice President's Office also manages Baby Gator child development centers and the HR Forum—a monthly meeting to keep HR staff throughout campus informed of relevant news and developments.
Gentry has a demonstrated history of supporting performance, accountability and achievement at the university, having recommended, developed and implemented organizational development activities for vice-presidential areas, colleges, departments and divisions over the course of her career at UF.   With close to 30 years of human resources experience in higher education, Gentry previously served as assistant vice president for Human Resources, during which time she regularly led change management engagement efforts for high-level institutional initiatives and served as director for strategic initiatives for the Office of the Senior Vice President and Chief Operating Officer.  As director of UF Training and Organizational Development, Gentry founded the university's Advanced Leadership for Academics and Professionals program as well as the UF Academy for emerging leaders.
Gentry holds a Master of Arts in Mass Communication with a specialization in public relations from the University of Florida and a bachelor's degree in English from Berea College in Kentucky. She also is a Society of Human Resource Management Senior Certified Professional (SHRM-SCP).
---
Melissa Curry, Assistant Vice President for Human Resources
As assistant vice president for Human Resources, Melissa Curry oversees the areas of Talent Acquisition and Onboarding, Employment Operations and Records, Immigration Services, and Classification and Compensation. Curry works with HR departments and UF units to identify, hire and retain the best talent, provide streamlined and efficient employment operations and assist with the implementation of UFHR's Strategic Commitment.
Prior to this role, Curry served as the UFHR director of Recruitment and Staffing for 10 years. As director of Recruitment and Staffing, she led a number of system implementations, including ePAF, UF's electronic personnel action form; GatorStart, UF's online onboarding system; and Interfolio, an applicant tracking system designed to enhance the faculty experience. Curry also led the recruitment efforts for the Faculty 500 initiative and launched the Strategic Talent Group, an internal executive search group created to assist with UF's high-level and difficult-to-fill positions.
Curry earned her bachelor's degree from the University of Iowa and obtained her master's degree in higher education administration at UF. She is also a Society for Human Resource Management Senior Certified Professional (SPHR-SCP).
---
Brook Mercier, Director of Employee and Labor Relations
Brook Mercier oversees the entire UFHR – Employee Relations team and is responsible for planning and directing a comprehensive Employee and Labor Relations program for faculty and staff. Prior to becoming director, he served as associate director of Employee Relations. Mercier previously served as associate director for Classification and Compensation as well as Employee Relations manager for the Health Science Center and Facilities Services. Mercier joined the University of Florida in 2006 after seven years working in human resources in private industry. He enjoys the fulfillment of seeing managers and employees achieve success for their departments and the University of Florida.
---
Bob Parks, Director of Training and Organizational Development
As director of Training and Organizational Development (T&OD), Bob Parks works with his team to create a significant competitive advantage for UF through great leadership, team effectiveness and individual employee excellence. He has worked at UF as a trainer and OD consultant for more than 10 years. Before joining UF, he taught or trained in both university and corporate environments for more than five years. In his current role, Parks facilitates several of UF's Leadership Development programs as well as courses in the Managing at UF certification program. He also provides strategic planning and other organizational development services to departments and work units across campus.
---
Shannon Edwards, University Benefits Director
As University Benefits director, Shannon Edwards is responsible for all university-wide benefits and leave programs. Prior to joining UF Human Resources, Edwards served as the chief operating officer responsible for human resources and school operations for Charlotte Christian School, a large K-12 private school in Charlotte, N.C. She has also worked for Blackbaud, a publicly traded technology company, where she was the director of Benefits & Compensation; Family Dollar, where she was the director of Employee Benefits; and MedCath Incorporated, a private health care company, where she was the director of Total Rewards. Edwards received her bachelor's in business administration at Georgia Southern University and holds human resources certifications from both HRCI and SHRM.
---
Brent Goodman, Associate Director of Classification and Compensation
Brent Goodman oversees the university's classification and compensation systems in order to ensure the university's compliance with applicable laws and regulations. He previously served as an Employee Relations manager, and prior to joining the University of Florida, he worked as a human resources manager in the private sector, including for Home Depot and Bass Pro Shops. In his role as associate director, Goodman works with university stakeholders to develop and implement programs that ensure market competitiveness and internal equity in order to attract, reward and retain high-performing faculty and staff.
---
Angie Brown, Assistant Director for Communications and Worklife
Angie Brown oversees electronic and print communications as well as worklife initiatives designed for UF faculty and staff. She helps facilitate internal change management efforts, providing strategic communication planning and execution for UFHR, the Office of the CFO and other university units. Brown brings more than 20 years of higher-education public relations experience to her role, including previous positions at Penn State and Oregon Health & Science University. She has served on the Board of Directors of the National Consortium for Building Healthy Academic Communities and is co-chair of the UF Healthy Gators Coalition.
---
VP Office Staff
Juliana Bunn, HR Data Analyst
As an HR data analyst, Juliana Bunn is responsible for developing, preparing and presenting HR metrics, internal and external benchmarks, and management reporting for various human resource practice areas and programs. In this role, Bunn also uses the vast store of information and computing power within UFHR to answer many of the most important questions about the workplace and the workforce, and works with business process owners and project managers to identify opportunities for process and/or data improvements.
Bunn joined UFHR in March 2014 and has worked in Classification & Compensation as a compensation specialist and in Recruitment & Staffing as an employment specialist. She received her bachelor's degree in psychology and a master of management from the University of Florida.
---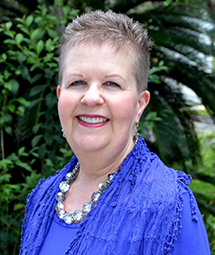 Kara Sue Cobb, Executive Assistant
As the assistant to the vice president for Human Resources, Kara Sue Cobb is responsible for managing the VP's schedule, correspondence on her behalf, the HR budget – overseeing all the financial transactions associated with HR – and works closely with many senior administrative assistants across campus. She coordinates numerous events hosted by HR and the VP's office. Cobb supervises staff in the vice president's office. In addition, she is responsible for ensuring UF employees' financial disclosure compliance for the Florida Commission on Ethics. The University of Florida's accreditation is reaffirmed every 10 years by the Southern Association of Colleges and Schools Commission on Colleges – the regional body for the accreditation of degree-granting higher education institutions in the southern states. Cobb is responsible, on behalf of Human Resources, for processing reports demonstrating compliance with SACSCOC principles and standards, and their quality enhancement plan.
Cobb is a graduate of Abilene Christian University in Texas, where she received a bachelor's degree in Business Administration. Cobb joined UF in 1995 and came to UFHR in 2015 via the Office of the Vice President and General Counsel, the Vice President's Office for Business Affairs, UF Development Corporation-Innovation Square and UF Historic St. Augustine.
---
Marie Johnson, Administrative Support Assistant
As an administrative support assistant for Human Resources, Marie Johnson serves as the first point of contact for the office, providing administrative support to all staff by processing HR financial transactions, including travel and expenses for the HR Management team; coordinating HR events, such as New Faculty Orientation; processing job postings, new hires and payroll; distributing mail; and managing incoming calls. Johnson joined UFHR as part of the Recruitment and Staffing team and later moved to the Vice President's Office, where she has worked for more than five years. Before joining UF, Johnson worked for the Marion County Clerk's Office in Ocala as a court clerk for the Felony Division.
---
Shay Potts, HR Project Manager
As the HR project manager, Shay Potts is responsible for facilitating the implementation of UFHR strategic initiatives, including new policies, procedures and programs. In her role, Potts works in collaboration with project stakeholders to complete thorough needs assessments in order to provide project recommendations. She works closely with HR professionals, administrators, stakeholders and the campus community to evaluate effectiveness of proposed initiatives and to define project scope, goals and deliverables.
Potts is a graduate of the University of Florida College of Agricultural and Life Sciences, where she received a master's degree in agricultural education and communication, specializing in leadership development, and her bachelor's degree in agricultural education and communication, specializing in communication and leadership. She joined UFHR in 2015 and previously held the role of training manager in Training & Organizational Development. In this role, Potts created training plans for campus-wide training initiatives in the areas of Student Services, Finance and Accounting, and Human Resources.
---

Amber Wuertz, HR Management Analyst
As the HR management analyst for Human Resources, Amber Wuertz is responsible for guiding HR strategic initiatives to ensure successful implementation of new policies, programs and procedures. In her role, Wuertz conducts analyses of business process improvements and compliance with state/federal laws, and works closely with HR professionals, administrators, stakeholders and the campus community to evaluate effectiveness of proposed initiatives and to ensure process optimization.
Wuertz is a graduate of Western State College of Colorado, where she received a bachelor's degree in sociology and a minor in journalism. In 2012, Wuertz graduated from UF's Leadership Academy. Since joining UF Human Resources in 2006, Wuertz has served in roles in Recruitment and Staffing, Employee Relations, and Classification and Compensation. She has overseen and/or been a key decision-maker on previous and current initiatives including OnTarget, Success at Work and the Compensation project.