Communications and WorkLife
Communications and WorkLife
E-Mail: hrcommunications@hr.ufl.edu or hrs-wellness@ad.ufl.edu
Phone: (352) 392-2477
Fax: (352) 392-1055
Mail: PO Box 115006, Gainesville, FL 32611
Angie Brown
Assistant Director for Communications and WorkLife

B.A., Journalism, University of Oregon
As assistant director for Communication Services and WorkLife, Angie oversees electronic and print communications as well as worklife initiatives designed for UF faculty and staff. She helps facilitate internal change management efforts, providing strategic communication planning and execution for UFHR, the Office of the CFO and other university units. She brings more than 20 years of higher education public relations experience to her role, including previous positions at Penn State and Oregon Health & Science University.
Angie works to forge partnerships and collaborations with other UF and UF Health units and individuals in order to develop and provide wellness programming and information to faculty and staff. She has served on the Board of Directors of the National Consortium for Building Healthy Academic Communities and is co-chair of the UF Healthy Gators Coalition.
Yusof Al-Wadei
Health Promotion Specialist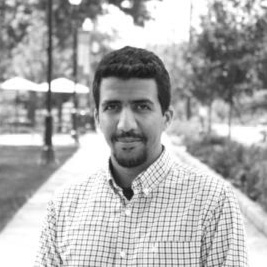 B.S., Biochemistry, Cellular, and Molecular Biology, University of Tennessee
MPH, Masters of Public Health, University of Tennessee
As the health promotion specialist, Yusof provides and promotes health promotion programs that support and foster a culture of wellness at the University of Florida. His responsibilities include providing a strategic direction for the health promotion program along with developing and implementing programs and events that are based on the health needs of UF employees. Yusof brings five years of experience in the field of health promotion and education that include development and implementation of similar health education programs.
Michelle McAdams
Communications Specialist

M.A., Journalism, University of North Carolina
B.A., English, Harvard University
As a communications specialist, Michelle assists with communications needs for UFHR and the Office of the Vice President and Chief Financial Officer. Her responsibilities include editing and writing for digital and print publications, including UF's biweekly employee news publication UF at Work; managing Web content; and developing strategic communications plans. Prior to joining UF, Michelle worked in journalism and hospital communications. She is currently pursuing an MFA in fiction.